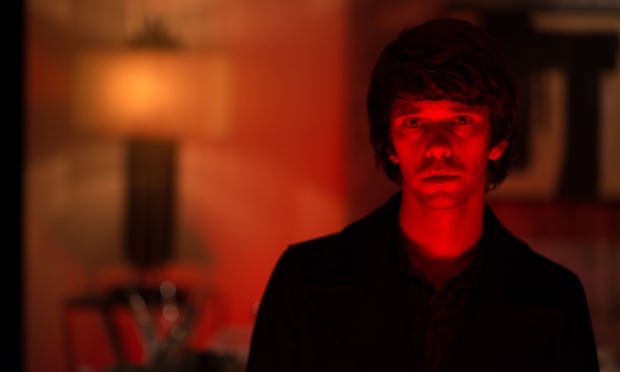 After the slower pace of the first two episodes, the violent opening to London Spy's third instalment comes as a bit of a shock to the system as Danny is dragged out of his bed by the police. It turns out the crime scene of Alex's death was littered with various bits of paraphernalia from Danny's earlier life when he was much more carefree and also careless. As the net closes in on him, he turns to Scottie for help, who willingly obliges to take up his friend's cause when he's in dire need. Danny is forced to confront elements of his past in order to start getting answers about a future that is no longer in his control.
Some thrillers make themselves about the mystery at the heart of the narrative and forget the characters operating at the heart of it. One of the best things about London Spy has been that focus on character first with the drama arising out of Danny's experiences, his relationships and the slow erosion of his life by unseen forces. Cleverly though, Tom Rob Smith also knows when to expand that story into one of institutions, prejudice and the establishment. As Danny's search continues, it gets wider in scope and in turn, feels more hopeless than ever. There's no establishment quite like the British one for closing down anyone wayward. As Scottie says towards the end of the episode, they're "quite alone."
The episode reinforces on nearly every level by becoming quite the assault on the senses at times. During Danny's interview with the police, the score punches its way into the scene at uncomfortable levels, mirroring his own desperation. After the emotional fallout of his HIV test, the music that has provided a pulse-like presence throughout is conspicuously absent, allowing his overspill of anxiety to become the only sound we hear. It's a deft combination of sound and silence that constantly unsettles throughout the episode. Moments of relative calm are just that, a brief pause before Danny dives further into the conspiracy around him.
It helps that the series has its heart one of the best actors working today. Ben Whishaw has been a captivating presence since the start, but it's Blue that pushes him further than any of the previous episodes have done. The Danny we met in the first episode - carefree, charming and laidback - has all but disappeared, replaced with a frightened, paranoid man unsure of anything. The scene in which he was told of his HIV infection, forced upon him by those that seek to discredit him, is a performance of heartrending brilliance, remarkable in its restraint and still completely devastating.
In that plot development, the episode also produces a searing criticism of social prejudices still manifesting within our society about sexuality and lifestyle choices. Tom Rob Smith utilises these prejudices to feel every bit as frustrating as the forces currently circling Danny and sealing him off from the truth behind Alex's death. Like the idea of the establishment (not only ours, but our allies now too), the prejudice that Danny will face as a result of his diagnosis feels overwhelming in its scale. One only has to look at the reaction Charlie Sheen's HIV revelation to realise how close to the truth this aspect of Danny's story is.
Elsewhere in the episode, London Spy's impressive supporting cast continue to make their presence felt in the series. Jim Broadbent is ever reliable; please forgive the wild speculation that I'm about to indulge in, but something doesn't feel quite right about Scottie. He's just a little too good to be true and if anyone knows about all the dark secrets of Danny's past that could be used against him, it's Scottie. Following on from Charlotte Rampling's turn, Mark Gatiss gleefully ups the sinister feel of this episode with ease. He used to play the kind of skincrawlingly indecent people every now and again, but this is the first drama I've seen in a while to truly capture the man's extraordinary range as a possible villain.
Having spent the first two episodes building this world, Blue feels like an uncontrollable slide into darkness as Danny's quest continues. Not content with simply functioning as a thriller, the episode's underlying social criticism enhances the plight of its central character and fully exploits the emotional responses of its audience without ever feeling cynical. Superb.
- Becky
You can read Becky's review of previous episode, Strangers, here.
Follow @AssortedBuffery on Twitter
Or like our Facebook page