Every once in a while, a show comes along that is constructed so brilliantly, it is very easy to get lost in its world. You fall for its characters, you love the little references it drops or the sense of humour it has. In The Flesh is one such show, expanding the world of its mini-series beginning to produce something truly and consistently astonishing.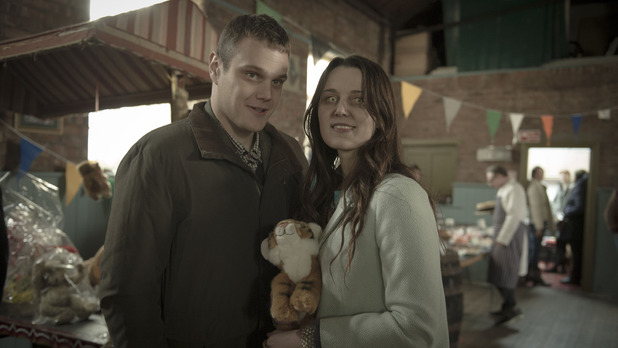 Last week's episode saw several of Roarton's finest get ready to complete their own personal quests as the village gears up for the Winter Fete. Simon is back in Roarton after he received his orders from the Undead Prophet to sacrifice the First Risen, which he believes to be Kieren, and kickstart the Second Rising. Maxine has discovered the identity of the true First Risen and is hoping that Simon will complete the job for her own personal ends. Kieren himself is under house arrest after being falsely accused of releasing the rabids and under threat of being sent back to the treatment centre in Norfolk at the behest of his parents. He also has to deal with a paranoid and violent Gary. Amy, meanwhile, is feeling again and going through the first flush of romance with unlikely hero Philip.
The final episode's narrative allows for the entire spectrum of emotion to be covered, often extremely moving, funny and horrifying all at the same time.. There's that same blackly comic thread running through in the confrontation between Gary and Kieren or the use of the cattle prod to halt Martin in her tracks. Most overwhelming, though, is the sense of tragedy at the death of Amy. It's long been clear that someone was for the chop this series and Amy's fan favourite status put her at the forefront and so it occurred. The true First Risen, there's a cruel irony in Amy discovering her heart beaten only for it to be stabbed by a crazed Maxine Martin to bring about the Second Rising. It's a horrible moment, thanks in no small part to Emily Bevan's continually excellent performance and the shocking and violent nature of the attack. Bevan's capable balance of Amy's vulnerability coupled with a steely determination to enjoy life has firmly planted her in fan favourite territory (which of course means she has to die).
The threat of the Second Rising has been building throughout the series, something which Maxine Martin and Simon have been both working towards from their opposite ideologies. The conviction of belief in a wide variety of forms has been one of the most prevalent themes so far and is brought in to this episode as the major narrative drive. Shown in another one of the parallel sequences that have been excellent throughout, Gary, Simon and Maxine are seen praying before going into action. Over the course of the episode, these prayers and beliefs are challenged and each react in a completely different way, fuelling a gloriously tense sequence as everybody's different missions come to a head in the old and new Roarton graveyards.
Rather than go for the dramatic, mythological development, Dominic Mitchell (back on writing duties for this episode) chooses to do something much more effective in disproving the entire mythology of the Second Rising. That undercutting of the mythology which has defined much of the second series proves to be much more in keeping with the more understated elements of the show and more welcome than a grandiose reveal. It may bring the village together briefly as they mourn Amy and resent Maxine, but this is Roarton. Things don't change overnight. The pub-based scenes at the end of the episode showed that brilliant public face of acceptance of normality and tolerance before revealing the PDS sufferers are firmly with the Undead Prophet and the living members of Roarton continue with their prejudice.
Maxine Martin has been the weakest link in the series, beginning the narrative as an enigmatic and complex figure before transforming swiftly into a two-dimensional villain that seem to exist just to put spanners in various works. This episode goes some way to rectify that as she takes matters into her own hands in killing Amy and then giving a nicely unhinged speech to everyone gathered at the village fete. With a personal stake in the Second Rising, the complete absence of it sends her over the edge, pushing her religious and prejudice fervour into something more dangerous. Though still not as well drawn or complex as her narrative parallel Simon, Martin's demise does stir up some sympathy for her in the final moments.
It is here that Simon and Martin's paths finally diverge; he too is pushed to the limits by his beliefs, committed to killing Kieren in order to fulfil the Undead Prophet's wishes. However, when Kieren is threatened, he chooses to save him instead. Unlike Martin, Simon is able to pull back from the brink and sacrifice his beliefs for Kieren. Emmett Scanlan has been one of this series' greatest strengths as its gone on and the enigmatic quality he brought to Simon kept everyone guessing right up until the reveal that he had taken the bullet for Kieren. With it looking likely that he will stay and winning over Kieren's parents in the process, a post-religious fervour Simon is a very interesting prospect indeed.
The separate character arcs across this series have been largely brilliantly drawn. Philip in particular has undergone quite the transformation from weaselly ambitious politician to a romantic idealist who stands up for what he believes in. His final moments with Amy, unable to let go of the tiger he won for her until the last moment is just heartbreakingly sad. It's these quieter background arcs, like that of Freddie and Haley in an earlier episode, that make Roarton feel so expansive and yet so insular at the same time. The focus may be on the undead triumvirate of Amy, Kieren and Simon, but around them, a convincing collection of people are going through their own experiences, of which we get the occasional welcome glimpse.
Luke Newberry has been the not-quite-beating heart of the series and is again fantastic here as Kieren finally comes to terms with himself. Having been constantly at war with his image, his status and the way society perceived him, Amy's death allows him to come to some sort of acceptance as he decides to stop running and stay in Roarton. He's also exhibiting the shakes that kickstarted Amy's transformation, which is another promising narrative should the show continue. The happiest part of the episode is when he is finally able to talk to each member of his family, even convincing Jem to get the help that she needs to overcome her trauma.
With that, another fantastic series of In The Flesh comes to a close. There's no confirmation yet as to whether it will receive a third series (it should), but the ending ties up enough loose threads and leaves plenty dangling to continue the narrative should Dominic Mitchell be afforded the chance. I'm particularly intrigued by the arrival of Weston and Halperin representatives in Roarton, which I haven't even got round to mentioning it here though they promise a lot. These six episodes have been an enthralling exercise in world-building and character development and with the mythology steadily building, it would be a shame to not see any more of it. Well-deserving of its BAFTAs and a continued run, In The Flesh is an absolute triumph.
- Becky
You can read Becky's reviews of the previous episode here.
Follow @AssortedBuffery on Twitter
Or like our Facebook page