The pace at Downton has slowed of late, what with the passing of Matthew and the transformation of Mary into a beautiful walking corpse. Thankfully, the show itself isn't entirely lifeless, though it's still a little lacking in the madcap plot twist department.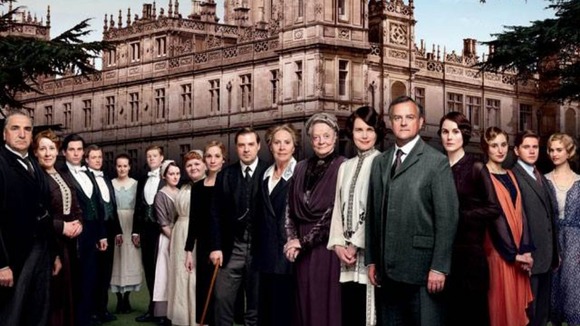 I'll mention the Ivy-Alfred-Jimmy-Daisy-possibly now Rose polygon briefly because it happened but still failed to get me caring about it. I'm not even sure who likes who really, just that there seems to be a lot of furtive glances and whispering about it. I also add Rose in now because Jimmy accompanied them to the dance and then caught her dallying with her bit of rough before dinner. Jimmy was an interesting character last series when he was the target for Thomas' affections, but he seems to have been reduced to wallpaper so far. Maybe a fling with Rose will liven the place up? Give them both something to do? Romances on Downton have certainly started for less and yes I'm totally grasping at straws here because the episode left me very little to go on ok?
Speaking of potential romances, might there be a possibility of a Mary-Branson relationship in the offing? Or a Mary-Tom relationship... I'm with the Dowager, it's too difficult. Anyway, now that Dame Maggie has instructed Tom/Branson to be Mary's instructor in the ways of the estate, the pair are about to spend a lot of time together and in TV Land, that's tantamount to getting engaged. Not to mention all the knowing grins that Tom/Branson was exhibiting throughout the episode.
Well there's that and the fact that it would royally get up Lord Grantham's nose, a man already campaigning fervently for 'Git of the Year'. I'm aware it would have been completely anachronistic for Mary to chuck her no doubt expensive Sauvignon Blanc right in his face at dinner, but I was totally gunning for it. However, whilst Lord Grantham may have given a wonderfully contradictory speech (remember when he was campaigning for Mary to inherit the estate?), it was left to the deceased Matthew to steal the show in the most convenient plot development since Miss Lavinia Swire felt a bit ill.
From the moment Lord Grantham began reading the letter, I knew it was going to be a moment of pure Downton gold. And it did not disappoint. "I suddenly realised..." Did you now Matthew? How very prescient of you. Speaking positively, whilst it may have been hilariously convenient, it also wrapped up the whole issue of Mary's inheritance neatly and quickly because I don't think anyone could have been bothered with another Series One entail plotline running all the way through it. On the other hand, it was terrible writing. Just terrible. Nuance has never been one of Downton's strong points, but if there was ever a moment for it, that was it.
It was left to the below stairs crew to get the nice storylines this week as Carson finally came around to forgiving his old friend in a lovely station-set scene with Grigg (though I was half-expecting a 'Daddy! Oh my Daddy!' moment a la Jenny Agutter). The story of Alice was quaint stuff, the type of story you'd expect to hear over tea and scones and therefore proper Downton stuff. I also enjoyed the Molesley-Mr Baaates storyline though Thomas' meddling with the Baaates family is getting a tad dull. Where's Miss O'Brien when you need her?
Oh and Edith is well on her way to become 'the other woman'. Brilliant. There's never a dull moment is there?
- Becky
You can read Becky's review of the previous episode here.
Follow @AssortedBuffery on Twitter
Or like our Facebook page