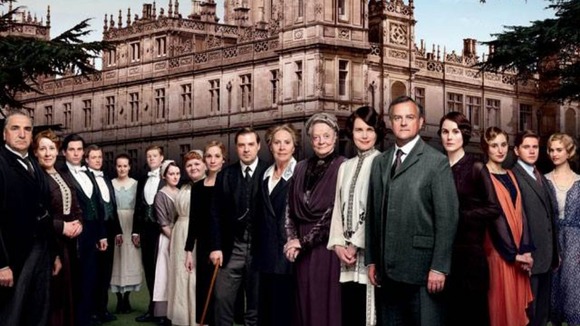 First of all a quick recap; if you remember the Christmas Special, one that was lacking in cheer or you know, anything that happened, there were a few clues as to where this series was headed. The big issue, and practically the only thing that happened in the special, was Matthew Crawley's rather horrific and graphic death at the hands of bad driving and an ill-timed fork in the road. Oh the symbolism. Mary had just given birth, Branson had to deal with advances from a wayward housemaid and the family had visited Scotland and Miss O'Brien manoeuvred her way into a new job. I can't really remember if anything else happened, but if it did, it's probably not important. That or one of the characters will tell us explicitly what we need to know.
Was Downton always so obvious? So neon-lit "here's an upcoming plot point/historical reference/danger on the horizon" flashing neon sign obvious? I mean, I know it's always been less than subtle and that's part of its charm, but this episode just seemed determined to whack you across the head with one of Mrs Patmore's copper ladles every time something significant cropped up. Some of my favourite examples included "he's in the workhouse and yes, it's every bit as something you'd read in a Charles Dickens novel". Thanks Mrs Hughes. There was also Edith's speech about how everyone hated the Germans, Mrs Patmore's statement about her being the old and Daisy being the new and just about anything that the Dowager Countess said.
This may have just been me noticing how obvious everything was in this episode, but it did just seem a tad more telegraphed than usual. Like I said, it's always been par for the course in Downton and Julian Fellowes throws more than enough at us in this series opener to keep us occupied. Grieving was the major theme in this episode with Mary moping around and doing even less emoting than usual, Isabel Crawley was doing something similar and Branson was doing his level best with Carson and Mrs Hughes to get everyone back and functioning again. Branson (I should really start calling him Tom soon) and Mary look like they're set to be quite the team and I'm intrigued to see where that goes.
Below stairs, we had Thomas doing his usual scheming.
With Miss O'Brien gone, I was worried that Thomas wasn't going to have to scheme all too much, but it's good to know he's back with a sneer and some casual manipulation. Only this time,
it turned out he was actually right about the villainous Nanny West who happened to casually abuse baby Sybby when she thought no one was looking. Elizabeth McGovern's Cora was particularly fierce in this moment and I liked seeing her do something other than placate the rest of the family, which she seemed to do a lot last time around.
The dynamic between Daisy and Mrs Patmore continues to be one of the highlights with this episode seeing them get to grips with an electric whisk. Also, Mrs Hughes and Carson continue to dance around the romantic question, but let's face it, if this series doesn't end with at least one of them acknowledging the other, Fellowes may have a mutiny on his hands. The rest of the romance in the episode was confined to the Ivy-Alfred-Daisy-Jimmy love quadrangle continues but I must admit, I switched off whenever they came on screen. I don't know enough about the new people to care just yet, but I did like the Mrs Patmore reveal.
We also seem to be getting a more feminist angle going in Downton this time around and not anachronistically considering we are now in the 20s. Though we're yet to hear a big hint of rebellion, Edith is well on her way with the prospect of 'living in sin' with her publisher chap. Oh just go for it Edith, you deserve it. Even if it does mean moving to Germany. Elsewhere, there's another hoo-ha about Mary's inability to inherit because of her gender, not to mention the return of the manipulative Edna Braithwaite to Downton. I love MyAnna Buring, she's a great actress, but Edna was a terrible character in the Christmas special and I'm not holding out much hope for the future.
Largely the usual Downton intrigue, if just a little more obvious about its context than it ever seemed before. I didn't really miss Matthew, something which I'd never thought I'd say, but at least we still have Branson.
- Becky
Follow @AssortedBuffery on Twitter
Or like our Facebook page