The penultimate episode of Broadchurch is a whirlwind of revelations, accusations and emotion as we edge ever closer to finding out who killed Danny Latimer.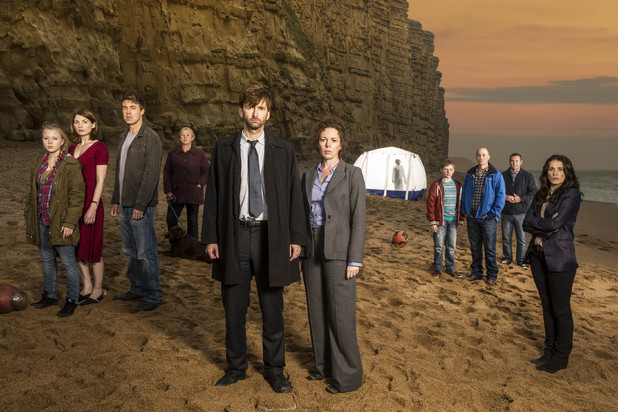 This week finds the suspect finger pointing back at Susan Wright (Pauline Quirke) as she is brought in for questioning following the return of Danny's skateboard to Tom (Adam Wilson). Miller (Olivia Colman) is forced to take on the leadership of the case after Hardy (David Tennant) is sidelined due to ill health. It doesn't take him long to be back on his feet and on the case again, leading to some wonderful to-and-froing between the best couple of detectives since Lewis and Hathaway left our screens. Elsewhere in Broadchurch, Echo editor Maggie (Carolyn Pickles) is doing her level best to dig up the dirt on Susan with the aid of puppy-dog Ollie (Jonathan Bailey). Reverend Paul Coates (Arthur Darvill) reveals some hidden truths about the relationship between Danny and Tom whilst Dodgy Nige (Joe Sims) discovers a secret about his past and finds himself in the spotlight.
Another packed episode of twists and turns, Broadchurch is one of the very few television shows I actually don't mind having breaks in because you always need a minute to catch your breath. We are now just one episode away from finding out who killed Danny Latimer all those weeks ago and I for one am still no closer to knowing who actually did it. For once, this isn't actually infuriating as Chris Chibnall has ensured there have been enough twists and revelations to keep even the easily distracted occupied. It helps that he has such an excellent cast to portray this town of characters with secrets to hide. The chemistry between the ensemble cast, especially in this episode, also gives the evocation of a real community, each affected in their own way by the brutal goings-on. Of course, one of them has to be the killer.
Each week has seen a couple of characters enter the frame for Danny's murder, with the majority of them being discounted through other secrets or a lack of evidence. And this week it is the turn of our favourite enigmas, Lurking Susan and Dodgy Nige who, it is revealed this week, are actually related. This
is a much better twist than some drugs-related gangster ideas I'd got floating around in my brain. Fingers are firmly pointed at Dodgy Nige right now what with Lurking Susan absolutely sure that it was him dropping off the body and the revelation that he used to take Danny hunting for animals.
I'm still not entirely sure it was him though as it seems a bit too neat just before the final episode. After all, there's still the mystery of Danny's mobile and Tom's laptop to be solved and the montage of all of the men involved in the case at the end of the episode tend to suggest that there is something tying them all together that hasn't been quite worked out yet. Mark's still got a couple of hours unaccounted for when he wasn't with Becca, Paul doesn't have an alibi for that night either and there has been lots of pointed comments to Ellie about not seeing something in your own home. Could it be that Joe Miller knows more than he's letting on?
I won't be writing again on the series now, unless I feel absolutely compelled to dissect the episode on my own blog, but it has been an excellent addition to the Monday evening schedule. I wasn't initially convinced because, as a veteran of many a crime show, it did seem as if it was another murder-by-numbers just in a beautiful location and with all-round excellent performances. As it progressed, I've found that I just haven't been able to decide who did it; the moment I think I know, a curveball is thrown and I'm left to re-assess before having another bash at it. I'm still thinking the Reverend has got something to do with it; Darvill has been given a lot of screen-time and the character is so determined to be helpful, there's just not something quite right there.
We shall find out next week and Jen will be here with her thoughts on Broadchurch's big finale. Let's hope it ends with a bang not a whimper.
- Becky
You can read Jen's review of Episode Six here.
Follow @AssortedBuffery on Twitter
Or like our Facebook page.