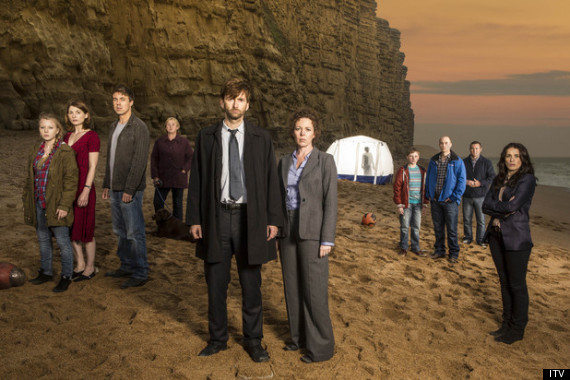 The fourth episode of Broadchurch sees more of the town's residents added to its ever-growing suspect list.
After last episode saw Mark Latimer (Andrew Buchan) move down the priority suspect list following the revelation of his predictable affair with Becca Fisher (Simone McAullay), this week finds DI Alec Hardy (David Tennant) and DS Ellie Miller (Olivia Coleman) discovering more potential suspects as more evidence emerges. All whilst still taking the time for a nice spot of dinner which, as Jen observed, was a nice bit of comic relief. We're also given more of a glimpse into lurking Pauline Quirke, or Susan Wright/Elaine Jones as she's known in Broadchurch as well as a not entirely unexpected development with newsagent Jack Marshall (David Bradley).
Broadchurch is a very curious mix of both generic and good, the success of which is something I can't quite put my finger on. As Jen and I have observed over the past few episodes, a lot of the material is quite generic; we've had the suspect close to the family who turned out to be a red herring. He also happened to be involved in an affair that wasn't exactly a surprise. Then there are the various shady characters around the town who all have 'potential suspect' badges all hunted down by the detective with a murky past and unknown medical condition. And yet I'm still hooked.
To the show's credit, the fantastic ensemble cast sell the small town paranoia well, offering up a convincing dynamic between the outcasts and the tight-knit community. And whilst many characters may be wearing these suspect badges, as I shall now call them, I have yet to actually call which one of them may be the murderer. In more traditional murder mysteries, there would be another body by now to help guide both us and the detectives to whodunit. At this stage, I'm thinking Arthur Darvill's nervy reverend is something to do with it. Until this episode it had been Pauline Quirke, but she just got a bit too obvious.
In fact, Quirke's scenes this week were the only bad note in an otherwise excellent instalment. Her confrontation with the other plumber, creepy Nige (Joe Sims) was badly written, something you'd find in an awful episode of Eastenders instead of a tightly scripted ITV drama. Likewise, her threat to the newspaper editor was almost laughable. It's Pauline Quirke. Unfortunately, despite her acting ability, she is just not threatening. Bringing the character out of the shadows has unfortunately reduced her impact; before, she was a sinister presence and now, she seems to be becoming a cartoon villain. Or at least the next Phil Mitchell.
Alongside Susan Wright's upgrade to priority suspect, this episode also saw more things come to light about newsagent Jack. Bradley's performance was perfectly pitched, balancing the grumpy town elder with the vulnerable old man he became later in the episode as his past came back to haunt him. With the increased press presence in Broadchurch, something tells me that Jack will suddenly be thrust into the prime suspect spot, despite his assurances to the Latimers that he wasn't the killer.
As we're now halfway through the series, I think it's fair to say that revelations will start coming thick and fast though if Broadchurch continues to successfully shield its hand, it will be a while before we can predict Danny's killer.