It's the penultimate ever episode of Being Human this week, and it's as dark as they get; Hal is falling spectacularly off the wagon, Tom has got some growing up to do and Alex gets to experience every emotion you can think. Plus, Hal does press-ups again. And wears a vest. Not bad for an hour.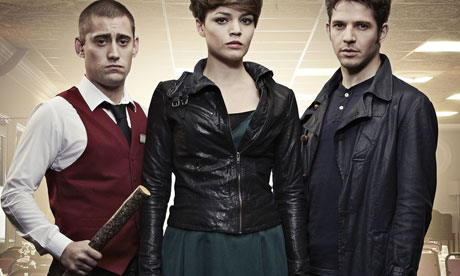 With the build-up to Hal (Damien Molony) getting back on the blood taking place over the last few episodes, it became one of the focuses this week as our centuries-old vampire finds his way back to the o-negative. Elsewhere, Tom (Michael Socha) finds himself beguiled by a newcomer to Barry, the lovely Natasha (Kathryn Prescott). Little does he know that she is actually part of the scheme concocted by Rook (Steven Robertson) and Hatch (Phil Davis) to fuel the vampire/werewolf conflict. Alex (Kate Bracken), meanwhile, takes on an investigating job as she decides to find out what was really behind Bobby's suicide, uncovering far more than she had possibly bargained for.
Oh this episode was upsetting. From start to finish, the entire proceedings was tinged with a sense of sadness, not only that the series was coming to an end, but for the characters themselves. Each given their own particular turning point, the focus remained entirely on our central three rather than choosing to track the various sideline characters that have been appearing throughout the series. As always, the truly excellent scenes were the ones in which Alex, Hal and Tom appeared together, or in various combinations. One particular standout was the scene between Alex and Hal in the bandstand after she discovered Hal is feeding again. Bracken has been a great addition to the cast and she was fantastic here, giving a gutwrenching performance of betrayal and hurt. Molony, as ever, can't be faulted and with the evil side of Hal's personality only appearing in flashes, it was the tortured, self-destructive version that we got to see to great effect.
Once again, Socha excelled as the naive Tom, finding a balance between whimsical ignorance and a misplaced self-awareness. Granted another romantic subplot in the form of Prescott's Natasha, Tom's wonderfully old-fashioned ideals were mined for some comic moments, the best of which was either his response to being asked about 'the birds and the bees' or his questions to Natasha on their date. It also allowed a new dynamic between the three supernaturals to be explored. Whereas Mitchell, George and Annie were always very much flatmates, here we see a family dynamic developing. In Alex's throwaway line that referred to Tom as her and Hal's child, a new spin was put on the way our heroes interacted. If the series were to continue, this would be something that I would like to have seen the writers explore.
As you would expect from the penultimate episode, it was all fairly action-packed, with revelations and plot developments galore. Although he has been a suitably sinister presence throughout the series, I'm still not entirely convinced by the Devil, whose powers so far have amounted to Suicidal Chinese Whispers and Glowy Red Eyes of Doom, but hopefully now he has his powers back, we assume, we can actually see some form of Satanic badassery. The writers have also been taking notes from recent Nolan films as we were given a very literal interpretation of 'He Will Rise', though differing budgets meant it wasn't a rising platform in a waterfall, but standing up from a wheelchair. Still, the Devil has stood up and has caused our three heroes to split quite spectacularly.
And now, that ending. One of the best pre-finale build-ups I've seen on Being Human, we seemed to have just about everything; emotional turmoil, best friends falling out, an arming oneself sequence, a bloody massacre, an excellent use of 'Hey Man, Nice Shot' by Filter, a burial alive (sort-of) and Hal performing Gilbert and Sullivan.
Never has I Am The Very Model of a Modern Major General sounded so sinister. If this is a sign of how good the finale is going to be, I'm already excited for Sunday. But I'm also upset, as I don't want to see this show end. I'm going to miss Hal, Alex and Tom.
- Becky
You can read Becky's view of the previous episode, The Greater Good, here.
If, like me, you're in mourning for the series and wish to actively campaign against its cancellation, here's a link to a petition that has been started.
Or, if you're a fan of us here at Assorted Buffery and wish to actively campaign for our existence, you can like us on Facebook and follow us on Twitter.