Being Human returns this week with more Captain Hatch, some Hal/Tom-related hilarity and the poshest and most obnoxious child since Veruca Salt decided she wanted a bean feast. Whatever that is.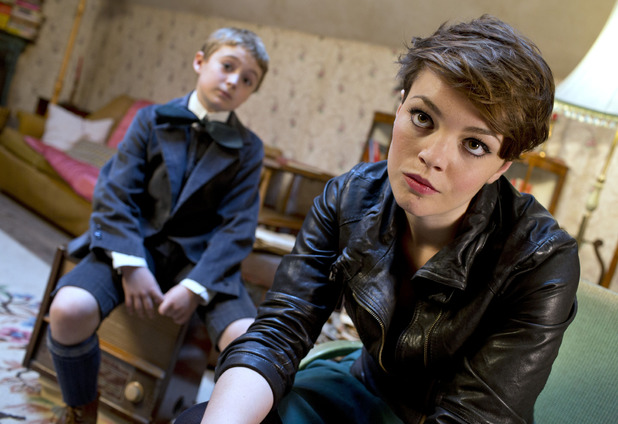 While Tom (Michael Socha) and Hal (Damien Molony) continue to try and make a living at the hotel, Alex (Kate Bracken) finds herself without a whole lot to do now that she's a ghost. Thankfully, or not, along comes child ghost Oliver (Benjamin Greaves-Neal) to entertain/exasperate her as they both haunt Honolulu Heights. Elsewhere, Rook (Steven Robertson) finds out that his department is likely to face cuts despite his protests whilst Crumb (Colin Hoult) gets nastier and finds himself a minion. Captain Hatch (Phil Davis) meanwhile stirs up the conflict between Hal and Tom during the Employee of the Month race and continues to get stronger feeding off of the energy.
Usually Being Human episodes can be slotted into two categories; there are those episodes which serve as filler stories which see some character development but tend to leave the bigger series arc alone, which is left to the mythology-themed episodes. This one was a curious mix of both, which didn't necessarily affect the quality, but did mean that it was a little odd in the way that only Being Human can.
We knew from last week that the Devil/Hatch feeds off the energy produced by a vampire-werewolf conflict so this episode saw him stoking up the usual Hal and Tom superiority conflict through the Employee of the Month competition. It led to some brilliantly funny scenes like Hal trying desperately to throw the competition by becoming bad at everything and the pair engaging in an afternoon-tea specific food fight (look closely and you can see Molony trying desperately not to laugh). The pair continue to have a great chemistry whilst Molony displays some serious comic talents, getting some of the biggest laughs of the episode.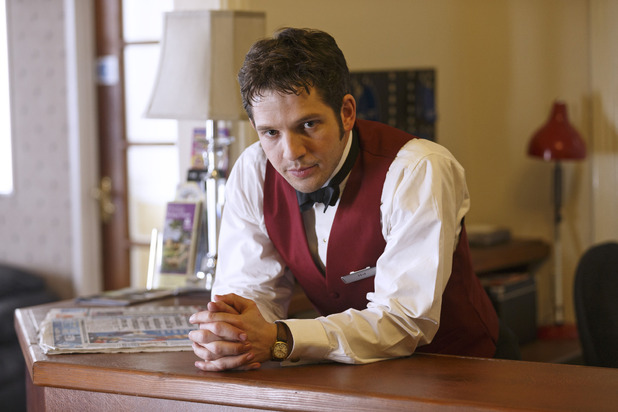 The plot development was given to Alex this week which was a logical step seeing as she had been with us the least amount of time. Through the use of irritating ghost-child Oliver, we find out about Alex's family background and her relationship with her brothers. Once again, the balance between the light and the darker scenes was keenly struck and made Alex's defence of Oliver carry a greater emotional weight. As a big sister to two brothers myself, it really struck a chord. We also learn that Alex's inclusion in the group could cause particular trouble to Captain Hatch's plan. Whilst a werewolf and a vampire on their own benefit him, a trinity is apparently something else. Perhaps this goes to explain why such trinities exist (i.e. Annie, Mitchell and George or Pearl, Hal and Leo) or at the very least why Alex hasn't crossed over yet.
Speaking of crossing over, our plot arc for the series continues to rumble on with the arrival of the 'men with sticks and rope'. It's been a while since Being Human actually produced any major scares, but these three freaked me out completely. Their arrival signals that the barriers between worlds are starting to decay and Hatch is beginning to get strong. In another freaky moment, he increased the blood pressure on poor Halstruck Patsy until her eyes and nose began to bleed. Lovely. He also spent the whole scene detailing his ENTIRE plan. It was the only bum note in an odd but decent episode; it felt too exposition-y - which could be a slight negative note to the series' shorter episode run (6 instead of its usual 8).
Which brings us to the sad part of this review, because this series will be the final one we shall see for Being Human. I did think to myself that you couldn't go much bigger than the Devil during the last episode and wondered where they would go for another series so it's not surprising that it is coming to an end. It is, however, very sad as I was just starting to really warm to the new cast and really enjoy their chemistry. Being Human has always been about the interaction of its leads and the new three have been the best thing about this new series. So we approach the end with sadness but if these two episodes are anything to go by, Toby Whithouse has got a fitting end for us in store. Let's hope so anyway.
- Becky
You can read Becky's review of The Trinity here.
You can now like us on Facebook - find our page here. Or you can follow us on Twitter @AssortedBuffery