Gwen ceases to be a puppet, Merlin must protect his identity and Mordred is finally given something to do as he must choose between his love for a Druid girl and his loyalty to Arthur; the path he takes will be instrumental in deciding Camelot's fate.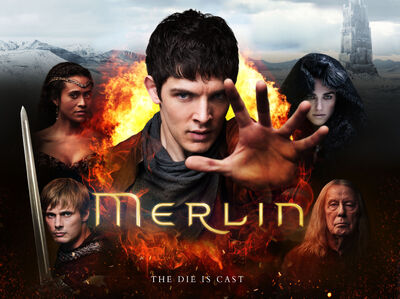 As I have missed my reviews for With All My Heart and The Kindness of Strangers, I shall give you my thoughts on them here, before moving on to The Drawing of the Dark which was possibly one of the best episodes of this series. With All My Heart saw the culmination of Gwen's plot, freeing her from Morgana's grasp and returning her to her one true love. It was, in comparison, a relatively light episode, embracing the comedic as Arthur and Merlin embark on a quest to save Gwen, the funniest moment of which was Merlin appearing in drag to play a rather camp, batty sorceress. And, shock horror, Mordred revealed he could do magic in a fierce confrontation with Morgana that further obfuscates the Druid's motives when it comes to Arthur.
While the climax of the episode was over-egged and a little sappy, the performances of Angel Coulby and Bradley James sold it. I've never been completely convinced by their relationship as the chemistry between the pair has been virtually non-existant. Nevertheless, it was good to see them back together and with an interesting warning from Old Woman Merlin about the positives that magic can bring. The Kindness of Strangers was another great episode as Morgana edged slowly towards discovering the identity and location of the mysterious Emrys. This episode was predominantly Merlin based and all the better for it. We often see Arthur having to deal with the responsibility of a position in power, but it is easy to forget that Merlin is also placed in that space, a fact highlighted brilliantly here by Finna, the Druid seeking to save her master. Colin Morgan's conflict throughout the episode, particularly at the moment of Finna's self-sacrifice was extremely well done and the scene where he was on his own on the roof highlighted his personal torment.
The Drawing of the Dark, then, had a tough act to follow and was in danger of slowing down the pace that Kindness of Strangers had set in motion. Rather than continue with Morgana's pursuit of Emrys, the writers decided to change tack and focus on Mordred instead. After a confrontation in the woods, a young Druid girl is injured, someone who Mordred (Alexander Vhalos) has known for most of his life. Merlin (Colin Morgan) is still ever-suspicious and accuses Mordred of helping her, threatening to go to Arthur (Bradley James) and report the knight's activities. However, Arthur's tracking skills help him to track down Kara and he captures her, sentencing her to death. Mordred finds himself divided between his two loyalties and after Arthur refuses to change the sentence, goes against his King in order to save Kara. Unfortunately, not everything goes to plan and an angry and grieving Mordred heads for Morgana's fortress with news of the identity of Emrys.
There are now only two episodes left of this final series of Merlin and the tension has been ramped up most effectively. We've been warned for the entire episode run that Mordred is BAD and is key to Arthur's downfall but unfortunately, he's not really done a huge amount. Thankfully, this episode goes some way to repair that damage and has a great central performance from Alexander Vhalos as the raging Druid. Vhalos must be commended for his acting throughout the series actually, playing Mordred completely ambiguously so that even though those of us who knew the mythology could never be quite sure what he was up to.
One thing that has also been completely consistent throughout Merlin in its entirety is just how stupid Arthur is. And I'm not talking conceivably missing things because he's being a king, but downright, blind-as-a-bat stupid. A case in point was obvious in this episode when Mordred appears to 'apologise', looking as if he could quite happily beat Arthur to death with a wooden spoon and Arthur simply sits back and goes 'oh I knew he'd come around'. Obviously, Arthur being completely unaware of Merlin's magic is a key part to their relationship dynamic but I do think it would have been an interesting plot-line to observe over multiple episodes, rather than perhaps just in the finale. Then again, it may be that Arthur never actually finds out, though I'm fairly certain that I wouldn't be alone in hoping that that doesn't happen.
We've only got two episodes left now and with Morgana knowing who Emrys really is, the stage is set for a truly explosive and no doubt, heartbreaking finale.
- Becky
You can read Becky's review of The Hollow Queen here.
Follow Becky on Twitter @beckygracelea
Or on her blog beckygracelea.wordpress.com