War is declared as Morgana's forces march on Camlann and Arthur and his knights ride out to meet them in order to defend Camelot. Meanwhile, the sorceress has found a way of ridding Merlin of his magic, thus leaving Arthur more vulnerable to attack. And here's your customary spoiler warning.
With Morgana (Katie McGrath) and Mordred (Alexander Vlahos) now allied and the identity of Emrys known as Merlin (Colin Morgan), things are looking dark for Camelot as the Saxons march towards Camelot. Arthur (Bradley James) decides to march for Camlann with his faithful knights at his side, but without Merlin, who has had his magic taken away and must head for the Crystal Cave, the birthplace of magic, in order to get it back. Meanwhile, Gwaine (Eoin Macken) may have given away some of Camelot's secrets and placed Merlin in jeopardy. A face-off with Morgana leaves Merlin trapped as he fights to save Arthur and meet his destiny.
This series of Merlin has been a slightly uneven affair, stalling in a few places but soaring to some really terrific heights in others. If ever there was a finale to reflect the preceding series, then The Diamond of the Day was it. The two episodes promised much; the conclusion of this particular version of the Arthurian legend, the big battle between the forces of good and evil and the moment in which we finally witnessed Arthur finding out the truth about Merlin. All of these things happened, thankfully, but were not necessarily as good as they could have been.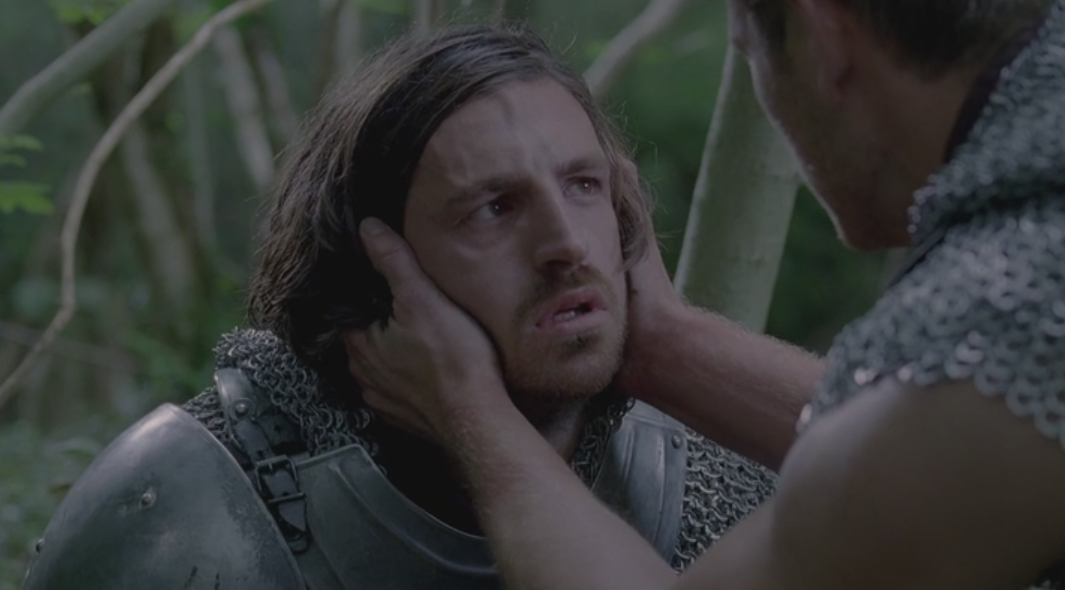 The Battle of Camlann was impressively realised for such a small show, offering up action and violence aplenty for family viewing on a Saturday night. The darker atmosphere of the show has really aided its development and allowed such a grimy battle to take place for the final two episodes. We also got a chance to see what could have been if the knights had been included a little more in the storylines. Eoin Macken's Gwaine has always been the roguish charmer so it came as little surprise that he was won over by Morgana's spy. Macken gave a subtle performance throughout, culminating in his death scene with Tom Hopper's Percival, with whom he had a great, double-act chemistry. It was a shame that we hadn't seen more of the pair since the opening two-parter episodes as they would have rounded out the excellent class well.
Elsewhere, Katie McGrath's Morgana went full evil and proved why she made a much better all-out evil person than a person secretly being evil whilst pretending to be good. If you didn't follow that, basically, I'm really glad that she didn't 'evil smirk' her way through this series. It was also good to see Gwen developing into a queen, though as a small scene reminds us, she has not forgotten how to muck in and get on with work if it needs to be done. Richard Wilson's Gaius also played an integral role in the proceedings, more so than he has been allowed to for the majority of series five. His scene with James' Arthur as he tries to convince the king of Merlin's intentions was quietly played, yet very effective.
Then, there's the conclusion of the legend. One of the most interesting aspects of the series was the way in which it incorporated the existing myths into new and interesting stories. Whilst it took the writers awhile to settle into this, it cannot be denied that we've been presented with some very interesting interpretations. The death of Arthur then, offered even more of this; any Arthurian fan worth their salt knows that the Battle of Camlann is where Arthur bites it at the hand of Mordred. This aspect of the narrative was handled extremely well, particularly Arthur's show of defiance in slaying Mordred almost immediately after being dealt a mortal blow himself. Arthur's attempt to remain standing after being wounded was a great moment for the character, summing up his strength and vulnerability simultaneously.
I was pleased to see that the writers stuck to their guns and actually featured the death of Arthur and his final journey to Avalon as the ending to their series as it had started to look like he might survive. However, this was also one of the worst parts of the show because it left a rather large part of the show's internal logic. Since the first series, both Merlin and the audience have been told that it is Merlin's destiny to save Arthur who will then bring magic back to Camelot. Neither of which happened. Whilst the death of Arthur offered a greater narrative closure in terms of the immediate storyline, in the wider plot, it felt that we, the audience, had been cheated. Although it was hinted that Gwen (Angel Coulby) as Arthur's successor, now knew Merlin's secret and might therefore be more sympathetic to magic in the kingdom, but this was by no means the 'magic returning to Camelot' that we had been promised.
Thankfully, there were two scenes that flew high above the rest of the episodes and highlighted just why I got so involved with this show in the first place. The first, when Merlin revealed that he was a sorcerer to Arthur as the king lay dying, felt like a huge moment of closure for both the main characters and the audience. It was, after all, the moment we had been waiting for since the series began. Morgan and James have consistently been the best actors in the show and once again stole it with two highly emotional performances, with Merlin's relief and Arthur's disappointment both palpable. The second scene was the moment in which Arthur thanked his friend for his continued, and unacknowledged, support, adding even more weight to the parting of the two friends. The relationship between Merlin and Arthur has always been the aspect that the show has got right throughout and it was good to see it get the ending it deserved.
I really, desperately wanted to love this finale, but it felt a little like the writers rushed it all a bit at the end, and forgot a lot of the promises that we had been given as an audience along the way. Despite the fantastic performances from Morgan and James (again), the story did not meet a satisfying and logical conclusion.
And they killed Gwaine. They had a lot to do to get me back after that, but sadly, it wasn't quite all I had hoped.
Read Becky's review of Merlin - The Drawing of the Dark here.