The Granthams head up to Scotland to visit Rose's parents, but everything is far from idyllic up in the Highlands. Branson is left behind to oversee the running of the house and the remaining servants take advantage of the family not being around. Very major spoilers abound!
Lord and Lady Grantham (Hugh Bonneville and Elizabeth McGovern) travel up to Duneagle in the Highlands to visit the rather hilariously named Shrimpy (Peter Egan) and his wife Susan (Phoebe Nicholls), parents of the wayward Rose (Lily James). Also in the travelling party are a heavily pregnant Mary (Michelle Dockery) and Matthew (Dan Stevens), Edith (Laura Carmichael) with her lovelorn editor in tow, Michael Gregson (Charles Edwards), the Dowager Countess (Maggie Smith) and several servants including Anna (Joanne Froggatt) and Mr Baaates (Brendan Coyle). Back at Downton, a new housemaid Edna (MyAnna Buring) is trying to convince Tom Branson (Allen Leech) that he should be ashamed of his new progression into the family while the other servants prepare to go to the fair. Thomas (Robb James-Collier) finds himself stepping in to defend Jimmy (Ed Speleers) despite the latter trying to avoid him.
Last year's Downton Abbey Christmas Special was very festive and with their engagement, brought joy to the viewers who had shipped Mary and Matthew from the start (and drew weary sighs from those who were just happy for it to be over). This special was considerably less festive and was more of an extension of the third series, following on from the plots established in the final episode, including Branson attempting to fit in with the family, Mary and Matthew trying for a baby and Thomas and Jimmy still reeling from the development of their relationship. From this image alone, we looked like we were going to have the usual Downton scandal:
With so many plot strands on the go and so many people invested in these characters, the festive special should have been action-packed, full of reeling plot developments, inexplicable twists and Maggie Smith's one-liners. It was absent of all these. In the whole 90 minute episode, there was only a good ten minutes where something actually happened. The rest was all furtive glances, limp dialogue and predictable directions for the new series. The entire episode felt like a poorly constructed bridge between three and four; one that was more concerned with setting up a starting block than being an episode in its own right.
There were positives though and a couple of storylines had potential; if you've followed my reviews then you know I'm a big Allen Leech fan and it was great to see him get some scenes to himself that didn't involve being the token outsider. Settling into Downton is a big transition for a character and his development and anxieties felt very real, despite being pushed by a very annoying servant. MyAnna Buring is a good actress, I've liked her in other things, but the character Edna was so irritating that I was really relieved when Mrs Hughes sacked her. Let's just hope she doesn't have a change of heart.
Also, Thomas' development from pantomime villain to a man trying desperately to hide his identity has been well-written and performed beautifully by Rob James-Collier. The character always had the potential to be fairly one-dimensional but since he no longer hangs around O'Brien so much and has become more cautious and fragile since the revelations of last series, he was one of the most interesting characters to watch in this episode. The tug of war was also quite fun.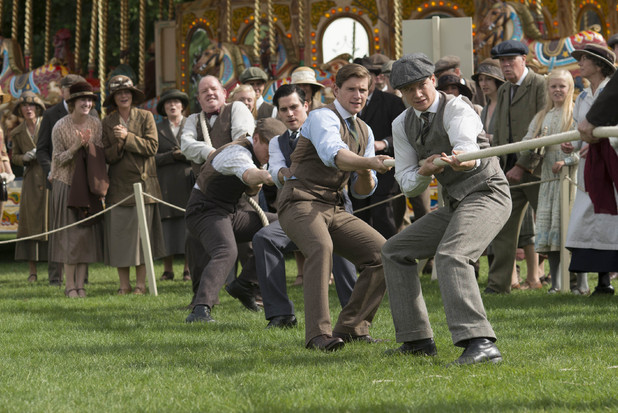 That being said, it wasn't difficult to stand out in this episode because the rest of it really was quite dull, which is something Downton has never been known for. Even at its most ridiculous and plot-twisty, Downton was always entertaining, whether that came from gasping incredulously at the latest convenient plot twist or laughing at one of Maggie's great one liners. In the last series, the Edith/editor relationship had all the hallmarks of developing into a crazy Jane Eyre-like romance but here was reduced to low-voiced conversations in corners. Let's hope Fellowes gets his Bronte on for next series. This plotline in particular was a good example of the simple fact that Downton seems to have lost its spark in this episode. That is, until the last fifteen minutes or so.
Just in case you missed the first warning, what follows is a MAJOR SPOILER.
Still with me? When Mary declared she would be fine and that going up to Scotland whilst heavily pregnant, you knew something was going to happen. After Lady Sybil's disastrous childbirth, all attention was focused on her. They couldn't possibly kill off another Grantham sister could they? Then the baby was born with no complications and Matthew started making all these declarations about how they were all going to be together forever and thus signed his own death certificate.
We all knew that Dan Stevens didn't want to return for the fourth series but I must admit, I didn't expect his exit to be just yet, or to be quite so spectacular. Stevens has been a great member of the cast throughout the series' run and it's a shame to see him depart for hopefully bigger and better things. Whether this will detrimentally affect the series remains to be seen but I will definitely miss seeing the developing bromance between Matthew and Branson, it was a thing of beauty. Matthew's death
twist was pure Downton, predictable up to a point, completely outlandish and left me sat there speechless as the credits rolled.
Now if the entire episode had managed to capture that same feel, it might have been a lot better. Sure Downton is mocked for its tendency to go from the sublime to the ridiculous in a matter of seconds, but that's what keeps us all watching. In his attempt to set us up for the fourth series, Fellowes seemed to have forgotten that and the result was sadly lacking for this Downton devotee. Let's hope the fourth series fares much better, despite the lack of the ever-charming Matthew.
- Becky
You can read Becky's previous Downton Abbey reviews here.
Follow Becky on Twitter @beckygracelea
Or her blog on beckygracelea.wordpress.com