The period drama comes to an end as Christopher continues to serve in the trenches, Sylvia hatches even more plans to try and get him back and Valentine continues to wait for him to return, picking up a sex education via early (considerably better written) prototypes of Fifty Shades of Grey.
Though featuring artillery bombardments, the Parade's End finale wasn't so much an explosive revelation as a slow meander towards the conclusion we all knew was coming (though in my case, not necessarily the one I wanted). Christopher (Benedict Cumberbatch) remains in the trenches, facing strafes and slightly deranged officers continuing a sonnet competition and wandering round without appropriate headgear. Sylvia (Rebecca Hall), now returned from France, continues to prepare for Christopher's life to be a misery when he gets back whilst also ending her five-year man-drought with a quick tumble in the bedsheets with former flame Gerald Drake (Jack Huston). Valentine meanwhile is at last given something to do after she discovers a sexually explicit book owned by one of her students, leading to her very own sexual awakening and the decision that she will 'ruin herself' with Christopher when he gets back. Oo-er.
There has been a battle right from the beginning of the series embodied in Christopher, the tension between tradition and modernity, the old and the new. Cumberbatch's stiff upper lip performance has been one of the main draws throughout the series and continues here, demonstrating Tietjens' discomfort with the world with every eyebrow raise and mouth twitch. Attempting to cling gallantly to the past, Christopher's efforts have been focused throughout on maintaining the status quo that everything else has threatened to destroy. This is no more apparent than in the wonderful scene in which he has tea and sandwiches served to him on a tray whilst sitting in a trench at the front. The Hun may be firing on him from all sides but goddammit it's time for afternoon tea!
It's the kind of attitude Sylvia has exhibited throughout as well though with considerably less restraint than Christopher. Everything must continue as it always had done, though of course, it didn't work out this way. Hall has been the standout performance in the previous episodes but here, with the focus more on Christopher and Valentine's eventual union, Sylvia is sidelined a little in the overall plot. That didn't mean she faded from view however; her last ditch effort to fake an illness to draw Christopher back in was both comical and slightly tragic, as was her venomous destruction of the tree at Groby. She's been advocating that particular form of arboreal revenge for a while and the hacking down of the tree was the last straw for Christopher. She also gets one of the best lines in the entire series, referring to Valentine as '

that scrub-faced ladies champion of the

regular bowel movement'. Just fantastic and the final scene in which Christopher conveys in a look just how committed he is to Valentine was electrifying between Cumberbatch and Hall, demonstrating the chemistry that has made them such a compelling couple.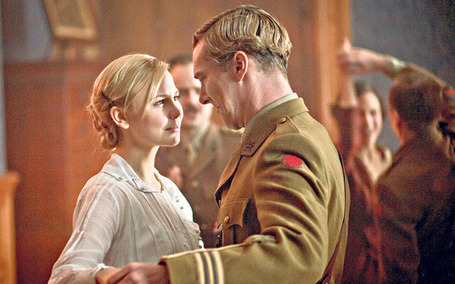 Narratively, Christopher was always going to leave Sylvia for Valentine but I'm still a little disappointed with that conclusion. Adelaide Clemens gave terrific performances in the first couple of episodes in which she had something to do and was more about being a rebellious suffragette than swooning after Christopher. Against Hall's towering performance, Clemens faded and Sylvia became the more compelling character, making me want to see her get Christopher after all. I don't necessarily think it was Clemens' fault; she was simply outgunned by both Hall and the writing that she was given. Valentine was meant to represent the pure versus Sylvia's corruption and sadly, that was all she ever was.
It's the only thing that occurs to me to be slightly negative about because the final scenes of the series were a fitting end for all of the characters we had got to know over the course of four episodes. Sylvia managed to manoeuvre herself as the future wife to the possible Viceroy of India through the newly promoted General Campion (Roger Allam). Allam has been one of the best supporting actors, mastering the look of bemusement that caused one of the episode's big laughs after Sylvia's unexpected marriage proposal. Christopher learned to let go of the past too, burning the log leftover from the Groby tree as a symbol of the beginning of his new life as both a singing war veteran and lover of Valentine.
Parade's End has been in a different class right from its first episode; unashamedly literary and scripted with a wit and sophistication that is rarely seen in dramas of any kind at the moment. I'm going to call it now and say it will be heavily nominated when it comes to award season and well-deserved it would be too. Fridays nights are going to be poorer for its absence.
- Becky
You can read Becky's review of Episode Four here.
Follow Becky on Twitter @beckygracelea
Or follow her blog on beckygracelea.wordpress.com