If you hadn't already guessed, we at Assorted Buffery are suckers for period dramas. Or indeed any dramas come to think of it. But mostly those where you have beautiful people swanning about in beautiful clothes and talking in beautiful accents. Now the BBC, ever the purveyors of such drama, have adapted Ford Madox Ford's quartet of novels, Parade's End, starring Rebecca Hall, newcomer Adelaide Clemens and Assorted Buffery favourite, Benedict Cumberbatch.
Parade's End follows the turbulent marriage of Christopher Tietjens (Cumberbatch) to socialite and general mischief-maker Sylvia (Hall) and his subsequent relationship with a young suffragette, Valentine (Clemens). The central marriage is more one of convenience as Tietjens tries to shed his past as a bit of a cad and Sylvia wants to avoid scandal after falling pregnant, though a particularly energetic train carriage encounter suggests there is an attraction between them. It's a beautiful study of a relationship destined to corrupt both parties and enough repression to fuel English stereotypes for years to come. With director Susannah White helming the production and the ever-brilliant Tom Stoppard adapting the novel with a witty and polished script, the first episode of Parade's End was an intriguing, funny and thought-provoking hour.
Aside from the excellent direction and crisp script-writing, the programme's strength lies in its cast; Benedict Cumberbatch is everyone's man of the hour, from literature geeks to sci-fi nerds (he's appearing in Star Trek 2 as the as-yet unnamed foe - come on Gary Mitchell). Here, he masters the stuffiness inherent in Tietjens' logical character and giving him a wit and intelligence that makes him a masterful screen presence. Not particularly loquacious, it's left to Cumberbatch to convey Tietjens' inner conflict with a look, or cursory glance to the side and the moment with the horse was about as close to a breakdown as we're likely to get.
Providing the emotional foil to Cumberbatch's stiff upper lip, Rebecca Hall is a whirlwind of wit, lace and the occasional nipple, perfectly capturing the mercurial Sylvia. Providing much of the comedy, Hall's Sylvia is just as conflicted as Tietjens though without even an ounce of the freedom that he possesses. As we're reminded by the ever-present suffragette movement and Sylvia and Tietjens' own protestations, divorce was not kind to women, nor was wider society. Despite knowing her conduct is less than acceptable, she continues to live how she wants, manipulating whoever she needs to. Ending a relationship at gunpoint isn't for everyone, but Sylvia does it with a smile.
The supporting cast were every bit as good, with seemingly every character actor you could think of drafted in to present a very British period drama. Though not given much to do just yet, newcomer Adelaide Clemens managed to hold her own in scenes with Cumberbatch, giving Valentine a spirited yet rather naive quality. Stephen Graham, playing an intelligent good guy in a role wildly against type, gave good Scotsman and his relationship with Anne Marie Duff's character was very sweet. Elsewhere, Roger Allam cropped up as an indignant military man and Miranda Richardson as a slightly unhinged novelist and both shone with Rupert Everett and Janet McTeer providing a biting relish to their roles.
The first episode was not without a couple of flaws though, particularly in the rather speedy introduction to our main couple. Fast-forwarding through the opening developments of their relationship, it took a while for me to work out exactly where everyone was up to in each scene. However, once we had the anticipated meeting between Tietjens and the elf-like Valentine, everything settled down. We even got the most bonkers cameo ever seen on television (I'd wager that anyway) in the form of Rufus Sewell's buggery-obsessed and more than a little unhinged vicar. It was a glorious moment, perfectly highlighting Edwardian politeness whilst simultaneously revelling in Sewell's wide-eyed performance. Having not read the books, I don't know if his character is set to reappear, but I really hope so.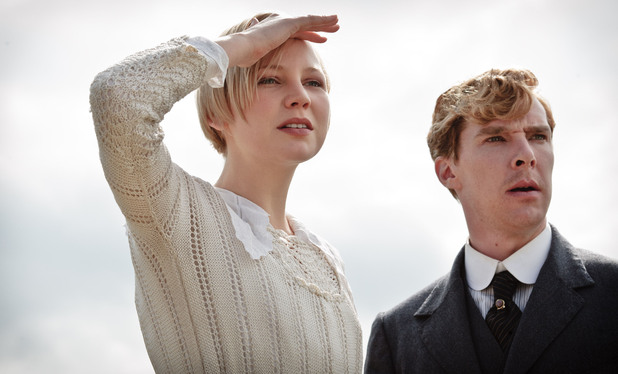 Much has been made of the potential rivalry between Parade's End and its ITV counterpart, Downton Abbey, with some saying that the BBC were simply trying to get one up on ITV after the disaster that was Upstairs Downstairs. Now, I love Downton Abbey (something you'll probably find out when it's back on television) but high literary drama it is not. In fact, if we're all honest with ourselves, Downton Abbey is to period drama what Coronation Street is to urban realism; the signs and comparisons are there, but it's too ridiculous to be taken seriously. Parade's End, by contrast, is a real thoroughbred period piece, betraying its literary foundations in every line and pregnant pause.
This summer has been a fantastic time for period dramas; with the fantastic Hollow Crown and now Parade's End, my yearly quota for corsets and riding breeches is already on the full side but when it's as good as this, I can stand a little more.
- Becky
You can follow Becky on Twitter @beckygracelea or find more work on her blog at www.beckygracelea.wordpress.com